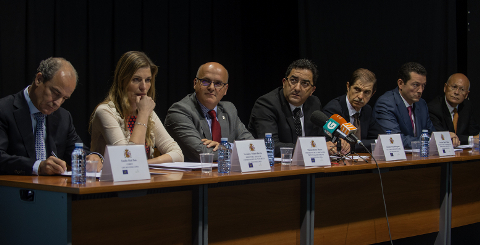 24 Sep

The Ministry of Agriculture, Food and Environment will invest more than 2 million euros in the region of A Limia (Ourense) through the European project LIFE Regenera Limia

The project has been approved by the European Commission in April and has as main objective to make compatible the cattle activity with the good state of the masses of water of the region

Through the document of agreement, the partners commit themselves to undertake the preventive and regeneration actions defined in the project

The Ministry of Agriculture, Food and Environment, through the Hydrographic Confederation of Miño-Sil (CHMS), formalized this morning in A Limia (Ourense) the Protocol of Agreement of the project "LIFE Regenera Limia", which was approved by the European Commission last April of almost 1,500 applications.

The protocol has been signed by the president of CHMS, Francisco Marín; the director general of Conservation of the Nature of the Xunta de Galicia, Verónica Tellado; the president of the Diputación de Ourense, Manuel Baltar; and representatives of companies Coren, Ecolagunas and Gas Natural, Emilio Rial, Manuel Arturo Fernández and Manuel Menéndez, respectively.

Also the mayors of the municipalities of Xinzo were there, Bande, Vilar de Barrio, Porqueira, Sandiás, Lobeira, Sarreaus, Xunqueira de Ambía, Trasmirás, Vilar de Santos and Muiños, and Director General for Nature Conservation, among other authorities .

The signatories of the agreement undertake to adopt the necessary measures to achieve the objective of reducing the nutrients of livestock origin in the bodies of water of the region of A Limia, using for this innovative techniques that contribute to fulfill the environmental objectives established by the Directive Water Framework and the transposing legislation into Spanish legislation.

The project is coordinated by the Miño-Sil Hydrographic Confederation, and the Xunta de Galicia, through the Department of Environment, Territory and Infrastructure, participate as associate beneficiaries, the Provincial Council of Ourense and the companies Coren and Eco-Lagunas , while the company Gas Natural participates as co-financier.